1,308 miles. Over the last year and a half, I have run 1,308 miles or almost 7 million feet. This is according to a tracking app on my phone. It hasn't always been on, so I am probably closer to 1,500 miles.
I could write so much about running, and the impact it has had on me. In time, I am sure I will. But in summary, it brought clarity. It has given me a determined focus. When I run, treasures of the mind come to the forefront (that's a subject for a different time). I find untapped strength deep inside me that I had never discovered before.
Perhaps, just perhaps, running saved my life.
I've been through two sets of shoes, wearing the treads out. Rain or shine, snow or sleet, I ran.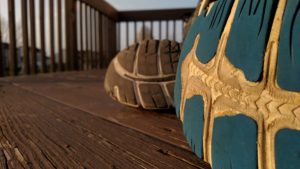 Running may not be your thing. And that's okay. Find your thing. Find the exercise (or exercises) that works for you, and stick to it. Come up with a disciplined routine.
If you are fortunate to learn this early, the following may not apply. But often in our youth (teens, twenties, etc.) we think we are going to live forever. Frankly, we live like we are going to live forever. We are invincible. That leads to us not taking care of our bodies as well as we should. I was one of those people. Don't get me wrong, I have always been active. But only recently I found my thing.
The benefits of a disciplined exercise routine help on so many levels. Physically, emotionally, mentally and spiritually. The dividends to be reaped can be found on so many levels. You will become a more effective person, and positively impact more people in your life.
If I forget to tell you, wear out the treads.