In February of 2005, I found myself on trip that forever changed my life. It was my first visit to Africa, and, in this case, I was travelling to Kenya. If a single trip could change a person, I think this was it. It helped me understand the vastness of our world, the diversity of the human experience and the day-to-day struggle that many millions face every morning they wake up.
Numerous memories and lessons came from this visit to the red soil of east Africa. They say once you visit this continent, a piece of it is forever in your heart. And I believe that, because it is in mine. One experience stands out above the others.
We were in western Kenya, just a few miles from the shores of Lake Victoria. The trip from Nairobi was a long one, passing through the great rift valley, the verdant green British tea fields of central Kenya and then finally arriving in the rural farming land of the Luo people.
As a typical westerner, we bought and drank bottled water throughout our trip. At any given time, we had half a dozen 2-litre bottles, and stopped to get more whenever we needed them. At this point in our trip, I was preparing to drive back to our hotel in Kisii. I wanted to clean out the all-terrain vehicle before we started our journey.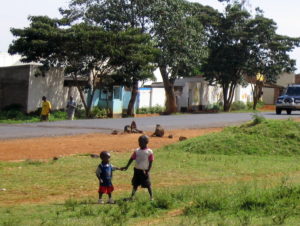 I gathered up several empty water bottles and started looking for a way to dispose of the trash. I was having difficulty finding a garbage can. Suddenly, an older lady walked over to me and started gesturing at me. At first, I didn't understand what she was trying to convey. She couldn't speak English. I finally figured out that she wanted the water bottles. As I handed them over, she showed tremendous gratitude.
As I wrote at the time, I was stunned. This dear lady wanted these empty bottles because they were a means for providing water for her family. She didn't have running water in her home. No faucets, no pipes, nothing. She had to walk some miles to the local water source to get water. The more containers she had, the more she could bring back this basic need of life to her loved ones.
She had a simple need. And I didn't see it. Instead, I was trying to discard my trash. This was a humbling moment for me.
How many times do we miss such obvious opportunities to help others? How often do we not see the opportunity to fully understand the needs of those around us? What do we have that could make a difference? Our time? Our attention? Even our smiles?
Many say that we should strive to walk in another's shoes. I think I've discovered that's not enough. I believe that we should try to live in their shoes. The more we think about exactly what the other person is thinking, the more we can serve. We will be more effective fathers, mothers, sisters, brothers, husbands, wives, coworkers, etc., if we live in their shoes.
It's a two-step process. First, we should take the time to think and figure out what the other person needs. That takes effort, and deep thought. And, second, we should provide the need, whatever it may be.
The more you do this, the more it can become a way of life. A part of who you are. You can live with an awesome understanding of others. And people will love you for it.
Dear daughter, son, if I forget to tell you, find a way to give away the empty water bottle.